Tanakh Is Our Story
Do your students view the Tanakh as a story that they can identify with? Are you interested in making Tanakh lessons more relevant to your students' Jewish identity?
This new project of Herzog College and UnitEd is designed to introduce Middle School students in Jewish schools to concepts of Jewish identity through familiarity with our national story, as set out in the Five Books of Moses.
"If we want our children and our society to be moral, we need a collective story that tells us where we came from and what our task is in the world."
Rabbi Lord Jonathan Sacks, Covenant & Conversation, Parshat Bo
Stage One:
The Exodus from Egypt
– the Rise of a New Nation
The first stage of the program will comprise 30 units based on the book of Exodus. It offers a unique approach to teaching and learning the Tanakh by connecting to the foundations and heritage of the Jewish Nation. It is designed for children aged 11-13 but can be easily adapted for younger and older students.
Program elements for teachers:
The Exodus program will be ready for use for the school year commencing Fall 2023.
We invite middle school Judaic Studies teachers to join the trial program and use these innovative materials in your school.
Sample Lesson:
The Heroic Women of Egypt
Some of the women in Egypt made difficult choices in the face of the Pharoah's wicked decrees.
What lessons are there for us in this story?
Let's start with the story of Rosa Parks. What challenges did she face? What choices did she make? What characteristics, strengths and values did she embody? Click here for the link to the video.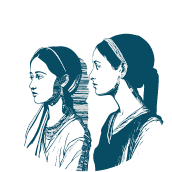 Let's meet some of the female characters in Egypt who stood up to the challenges facing them. They took the initiative and acted against Pharoah's decrees. Let's learn about these characters through the questions we discussed before. 
What lessons can we learn from this story about facing challenges in our own lives?